I'm back. And I'm still watching…film after film, of course. One of the benefits lockdown has graced me with, is being able to dive headfirst back into the glorious world of film. Which, admittedly, our reunion was long overdue. Work-life got busy and film was only consumed in frustratingly small doses. You could say my craving has now been satisfied, and with a dozen spoonfuls of ice cream later, I have ticked a few off that ever-growing watchlist.
So, here's 5 masterpieces that I had the pleasure of feasting my eyes upon, and you should too.
5. The Farewell (2019)
Goodbyes are hard. A very different way of approaching the conversation of death. Beautifully shot, it's not only a study on lies, family, and identity, but captures the true joy that grandmas bring to this world. Note: Buy a whole pack of tissues beforehand…that's if the store shelves give you the option to.
4. The Platform (2019)
"It's better to eat than be eaten."… A gut-wrenching smack in the face on greed and consumerism. This film has so many levels. 333 to be exact. Not for the faint-hearted, it's an endless bleak nightmare being trapped in The Pit – a vertical prison with one cell per level.
3. Intouchables (2011)
We all crave for that endearing, but entertaining film on a cloudy day. Intouchables isn't just that, it's more. It has heaps of heart. It's emotional, it's true to itself and it's bloody well funny. A french comedy that everyone needs to see. A breathe of fresh air.
2. Spirited Away (2001)
Speechless after watching this. Ships you off into a whole new world…no, I don't mean you Aladdin. Avoids every cliché to exist, and creates one of the most breathtaking animated pictures you will set your mind upon, with weird and wonderful characters like no other. 'Outing' myself here as a newcomer to the works of Studio Ghibli…shocking, I know. I deserve a slap on the wrist. But it's gripped me, and I can't go back now.
1. Her (2013)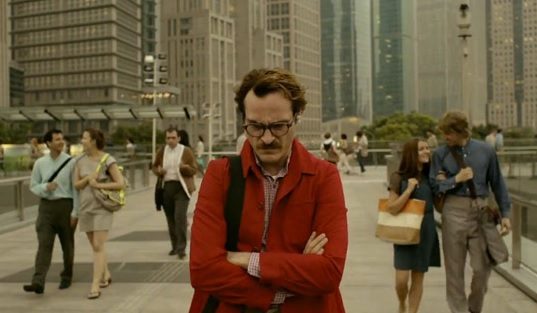 Wow. How do you sum up a film about a man who falls in love with the voice software on his computer? You don't. You just simply have to watch it. And it's not an easy watch. A Masterpiece in its own niche and visually stunning. If only the world was this aesthetically-pleasing.