"All I do every day is care…"
Directed by J Blakeson, I Care a Lot tells the story of Marla Grayson (Rosamund Pike) — a "Legal Guardian" who finds herself a little caught out this time around. Scamming the elderly for profit is what Marla excels in, particularly robbing their assets and everything they're worth. While latching on to their latest "cherry" (someone who is minted in savings, but poor in family connections) she realises someone has come close to sniffing out their foul act.
Like The Social Network, the narratives interwoven here all serve as a satire of modern life. The whole concept is morally wrong, and that's what makes it all the more exciting. J Blakeson touches on a ground that hasn't been covered yet, though it happens more often than we would assume in reality. As its title suggests, I Care a Lot provides quite the glass of irony that we want to clench our teeth into. It's a frustrating thriller, but has such clever direction that it even makes you sympathise for the lead, from time to time, without even knowing quite how you reached that absurd mindset. This is the perfect move for J Blakeson – the intentions of the protagonist, good or bad, is never judged — a side is not taken. And that's what makes a great film, the beauty of objectivity.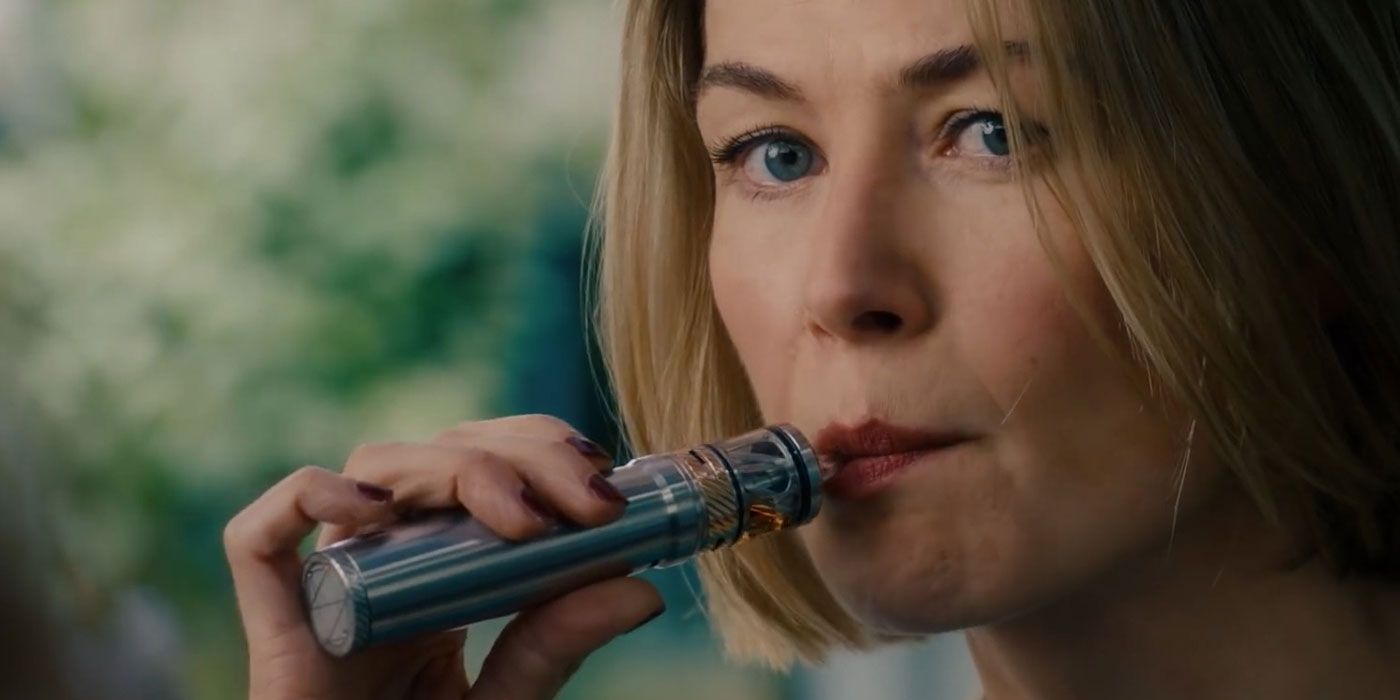 Pike has done some of her finest on-screen work playing frightening women of power and privilege who are brought low by fate, and yet again, she follows similar footsteps cast as Marla Grayson, bringing lack of empathy and just the right amount of sass. It's a tricky character, requiring a measure of careful calculation and total absence from emotion – she nails it completely. Hitchcock would have had a field day if a gem like Pike was around in such a time – she excels in the all-too-calm charismatic anti-heroine that's up to something bad. In any given scene, Marla embodies a sense of being heroic, informed and calculating, yet also oddly vulnerable despite her seemingly hard exterior. The only criticism sits in the methods of Peter Dinklage's scenes – they strike as all too familiar to the basic ingredients behind a thriller and could have shown a little more thought and imagination in revenge.
Eliza González does a great job in siding as Marla's accomplice / girlfriend, carrying the more emotional scenes on her shoulders, to make up for Marla's seeming lack of empathy. When the two come together, they definitely show a successful dynamic, especially in bringing out the other's vulnerabilities. The other star of the show is Dianne Wiest, playing Jennifer, the crazed victim to this frenzy. The poor soul loses it, and wouldn't we all?
Absolutely vile, but utterly intriguing. I Care a Lot balances a morally-absurd narrative of glorifying 'corrupting' of the elderly with a fitting character study on greed and motivations for wealth. Pike's filmography continues to stand as a 'must-see' and in some respects, this picture sways darker than Gone Girl. Now, wouldn't it be interesting to see Amy Dunne and Marla Grayson fight it out for their "girl boss" throne.